The Paddle Trip:
Trip Summary: The first part of the paddle, which can be done in sea kayaks or canoes) is a well-protected cruise along the cottage-lined shore of Sandy Point and Deveraux Cove. Tree-lined Fort Point Cove (also well-protected) leads to Fort Point which, as you round it, unfolds expansive views of Castine, Islesboro, and the Camden Hills.
Distance: Apx. 9 nautical miles (round trip) if you trace the shoreline; less if you cut across the coves.
Paddling time: 3 hours.
The Launch: Just yards from the parking area. Sandy! (This is Sandy Point after all.)
The Route: Head south (downriver) along the shoreline, past the high sand bluff of Sandy Point, the shaded summer cottages of Sandy Point Cove, and continue southwest into Fort Point Cove, where the water is sometimes very still. Then head southeast past the lighthouse and out along the cliffs of Fort Point. Continue west along the point until you come to a gravelly beach that catches your eye.
Watch Out For: As you round Fort Point the currents can be quite strong, depending on the tides and winds. Some evil hull-scraping rocks lurk just beneath the surface in Fort Point Cove at low tide.
Tips: If the currents seem to strong as you approach Fort Point, you can go ashore at the long wooden pier on the north side of the point. From there you can visit the lighthouse and walk the trails of the State Park.
Natural Features: Ospreys nest on the old wooden piers of Steamboat Wharf (near the put-in). The southern tip of Verona Island is opposite the put-in. The high sandy bluff of Sand Point. Seals frolic in the waters off Fort Point. The high reddish cliffs of Fort Point. And as you round the point, views of Castine (to the south), Turtle Head (the northern tip of Islesboro) to the southwest, and the Camden Hills (west, southwest).
Other Landmarks: The old pilings of Steamboat Wharf are just south of the put-in. This wharf, as the name indicates, was busy stop point for steamboat traffic between Bangor and points south. The cliffs of Fort Point are marked by a white lighthouse.
Stretch Your Legs: On the wooden pier and trails of Fort Point State Park. Or on any of the gravelly beaches west of the lighthouse.
One Paddler's Story: Trip contributed by Ray Wirth.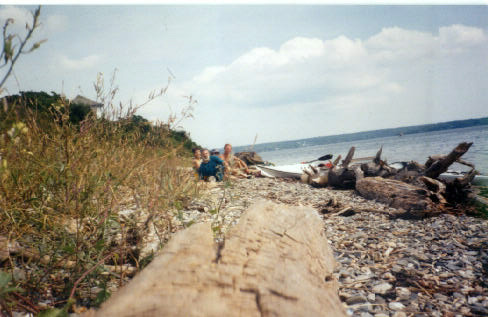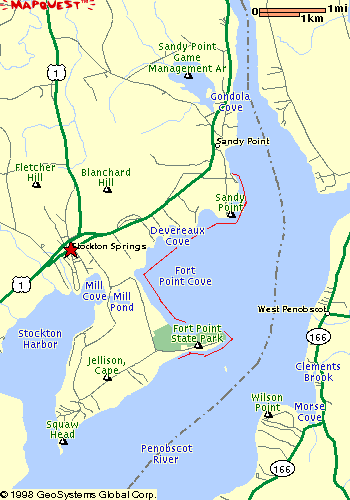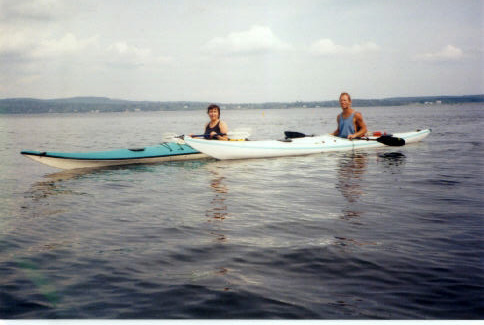 For customized maps, visit MapQuest.
Note: the above maps are not intended for navigation.


Water Walker Sea Kayaks:
.