Eastern Penobscot Bay, off Deer Isle, Maine
The Road Trip:
From the South: Take Route 1 north through Bucksport. Turn right onto Route 15 in East Orland about 4 miles beyond Bucksport. Continue about 4 miles. Turn right onto Route 199. Continue several more miles; turn left onto Route 175 at the "T" intersection and continue for another 10 miles or so. Be on the lookout for Route 15 South to Deer Isle and Stonington -- it's an easy turn to miss. (It's a sharp right turn when you find it). Continue another 10 -12 miles to Stonington. The non-commercial boat launch is off the pier on your left just before you enter the downtown business area. The parking here is only for two hours, however, so for longer term parking you'll have to look elsewhere. The commercial boat ramp at the far end of main street may work for a hand carry launch, but don't try to park there.

From the North: Take Route 1 south to East Orland, turn left onto Route 15, and follow the directions as above.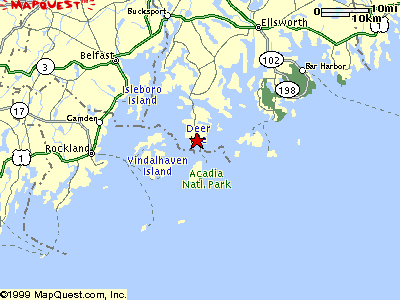 The Paddle Trip:
Trip Summary: Islands! Islands! Islands! This archipelago, which extends to the southeast of Deer Isle, has been described as one of the most beautiful island regions in Eastern North America -- and for good reason. Expect to have something interesting to look at during every moment of your trip.
Distance: 6.5 nautical miles (round trip)
Paddling time: 2.5 hours .
The Launch: The non-commercial pier is a busy place during the summer months. Drop your boat and gear off at the far end of the pier. (Public toilet available.) Carry your sea kayak down the ramp and launch off the dock.
The Route: Head south out of the harbor, past the quarries of Crotch Island. George Head Island will serves as a good reference point -- keep it just to the left of your bow. Green Island -- a bright grassy green -- should be to your left. Just south of George Head, turn to the east and continue along this thoroughfare (Merchant Row) past Little George Head, Wreck Island, and Round Island. Turn north up the channel between Round Island and McGlathery Island. Continue along the northeast shore of McGlathery, and further northeast toward Ram Island, and then turn northwest toward Stonington (the tower above the downtown area serves as a useful landmark), along the southern shores of Coombs and Camp Islands.
Watch Out For: Currents, plus the wakes of the many lobster & pleasure boats, plus keeping clear of the boats themselves, make for challenging paddling. If you want quiet, avoid the "lobster pot highways." Seems no one has invested much in developing a quiet engine for a lobster boat.
Tips: A chart is needed to help keep your bearings because the number of islands and ledges is overwhelming. This is definitely not a sea kayak trip in which you can follow a single compass bearing for several miles.
Natural Features: Variety is a word which comes to mind. You will be cruising past islands of every size, shape, and description -- some of highly weathered "bread dough" granite, others with sharp craggy cliffs; some flat and vegetated with grasses, others wooded and with high knolls.
Other Landmarks: The high profile of Isle au Haut can be seen to the southeast during much of the trip.
Stretch Your Legs: Steve, Harbor, and Potato Islands -- all in the rough area of the trip described above -- are Maine Bureau of Public Lands Islands which are open for day use. (Please note: there are 2 Potato Islands in this area, one is private and one public. The Potato Island with public access is near Camp Island). Overnight camping is available on several islands. Please contact the Maine Island Trail Association for information. Isles au Haut (part of Acadia National Park) is an excellent option if you have the time, equipment, and experience to make the trip. Call the Park Service at 288-3338 for information on camping on Isle au Haut.
One Paddler's Story: Trip contributed by Ray Wirth.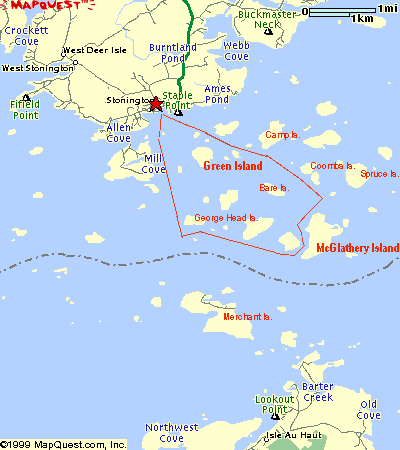 For customized maps, visit MapQuest. Please note: the above maps are not intended for navigation.


Water Walker Sea Kayaks