Trip Overview: Assateague is a magnificent barrier island, stretching over two states, 21 miles in Maryland and 14 miles in Virginia. The beach is protected by Assateague Island National Seashore and Chincoteague National Wildlife Refuge. At Assateague Island National Seashore, Chincoteague Bay on the inside of the barrier beach is accessible to paddlers by four "canoe/kayaking" camping sites situated under the pines at the edge of the bay: Tingles Island, Pine Tree, Green Tree (replacing Jim's Gut), and Pope Bay.

Day One - Sunday (Trenton NJ to Assateague MD): Sunday morning, April 18th started out as a glorious day to start our kayaking and camping adventure. The sky was clear, winds were calm and the air temperature 50 degrees. Our group of six, Bob Bousenberry paddling a Wilderness System Manteo, Vic Mottola paddling a Perception Carolina, Fred Schrenk paddling a Perception Acadia, Tom Thatcher paddling a Perception Spectrum, Paul Schneider paddling a Wilderness System Pungo and myself paddling a Perception Acadia, employees with the NJ Department of Transportation had been planning this trip for about seven months. For weeks, everyone was talking about what to bring. Would it be cold or warm? What types of food to bring? Could we carry enough water since none is available at the back country campsites? Would everything fit into our kayaks? Finally, the day was here. The plan was for everyone to meet at 9:30 am and depart no later than 10 am, for our 4 hour drive to Assateague. Thanks to the Internet, the driving directions were accurate and we arrived at The Assateague National Seashore Campgrounds in approximately 3 3/4 hours (including a 45 minute lunch break at McDonalds). We stopped at the Assateague Visitors Center and purchased two US Geological Topographical maps ($4 each) of the area we hoped to paddle. Also available for free are copies of the Assateague Island/Chincoteague official visitors map and guide which provides an excellent overview of the area campsites. We then drove over the Verrazano Bridge, through the park gates ($5 entrance fee per vehicle, good for seven days), and we finally reached the Campground Registration Office at the National Seashore Entrance Station by about 1:15 p.m. The group chose to camp at the bayside campsites so we could have easy access to the bay, for a late Sunday afternoon warm-up paddle. At the recommendation of the Park Rangers, we chose to stay at Loop-A campsites 17-18-20, but after exploring the area, Loop-B campsites 35-37 would have been a better choice as they had better access to the water. We set up camp and by about 3 pm the group was ready for our first paddle. We drove to the very end of the bayside campgrounds and launched from a sandy beach. The wind was just starting to pick up and we headed out towards an island about 1 mile away into one foot waves. The air temperature was 60 degrees and the water temperature was 50 degrees. We decided to circle the island, and as we got to the leeward side of the island, we were protected from the wind and waves. As we headed back, this time with the wind at our back the kayaks glided easily, surfing on the waves. As we neared our starting point, we got to see our first, up close and personal view of about eight ponies grazing near our parked vehicles. While we loaded our kayaks back onto the vehicles, the ponies slowly walked away and disappeared into the scrub pines. As we drove back to the campsite, we also spotted numerous small Asian Sitka deer. The remainder of Sunday evening was spent cooking, eating dinner, toasting each other with Three Stooges beer (check it out at www.3stoogesbeer.com), sitting around the campfire keeping warm as the air temperature had dropped to 48 degrees and talking about the next three days paddling adventures. By 10 pm, the group was eager to get to sleep and let the adventure begin.

Day Two- Monday (Old Ferry Landing to Pine Tree): As the sky began to lighten, both Paul and I awoke and climbed out of our tents at about 6:15 am to an air temperature of 34 degrees. It was cold! With camp stoves ignited, instant coffee and breakfast was started. While the water heated up, I took pictures of the sun rising over the bay. Next up, were Vic and then Bob. Vic, who probably brought the most gear of the group in an attempt to see how much his brand new Carolina could hold, started his stove and made real coffee in a percolator pot. Instant coffee is O.K., but Vic's real coffee definitely was the way to wake up. As the sun rose in the sky, the air temperature also rose to 50 degrees. Next up was Tom, our resident army surplus MRE (meals ready to eat) connoisseur. Unfortunately, in the week prior to our trip, he had decided to start his first of a series of three lyme tick shots and woke up on Monday morning feeling ill. Next up, was Fred. The group was now at full strength and breakfast, consisting of bagels, eggs, hot cereal, instant or real coffee and fruit was consumed in the cool morning air. Tom, the MRE gourmet and never one to eat "real" food or to heat his MRE's, downed a container of some unknown food group. In a few minutes, our group and the surrounding other campers were treated to the sounds MRE's being dispensed into the cool morning air. After about 30 minutes of breaking the campground's "quiet hour" policy, Tom professed that he was too ill to paddle and was going to drive home alone. Poor Fred was now faced with a problem. He had driven with Tom and now had to decide whether to abandon the group and drive back with Tom or make the paddle trip and hope all his gear, his kayak and he would fit in the remaining two vehicles. He made the correct choice and stayed with the group. At about 8 am, I drove back to the Park Ranger Station to hopefully secure our back country campsite permit. The ranger checked with the National Weather Service to verify that no small craft warnings were being posted and with a favorable weather report, we were issued a permit. I drove back to the group and reported "kayakers grab your paddles." We immediately broke camp and drove to the Old Ferry Landing parking-launch site. Now, the moment of truth: could everyone actually load all the camping gear, food and water into their kayaks and remain afloat. Some of us looked like the Beverly Hillbillies, with gear stowed inside the kayak and lashed onto the fore and aft decks, but we managed every piece of equipment brought along. As we said good-bye to Tom and some unknown photographer that seemed bewildered that so much gear could be loaded into five kayaks all the while taking our pictures, we finally hit the water at 10:30 am. We put into the broad Chincoteague Bay and started paddling five fully loaded kayaks. Everything we read about paddling in Assateague mentioned the shallowness of the bay. Well, there were no barnacles on our hulls after about 5 minutes. We paddled the beginning of the trip in less than one foot of water. The group joked about how low we were sitting in the water with our loaded kayaks and if the water got any shallower, it was going to be a long portage to Pine Tree. But eventually, the water deepened to 1-2 feet and we paddled by many of the small, unnamed, low-lying green marsh islands. As we headed south, to our left, we could see the dunes of Assateague and an occasional pony browsing near water's edge. To our right we could barely see the low relief of the mainland. As always happens, the wind began to pick up and was blowing directly into our faces. Yup, you guessed it, in the now 1-2 foot water, with a steady wind blowing in our face, the chop was creating 2 foot white-capped waves. The paddling slowed, but the loaded kayaks were very sea-kindly in the chop. The waves were sending salt spray flying, but our spirits were not to be damped. The sky was clear, with white puffy clouds, the air temperature was 60 degrees and the water temperature was 50 degrees. After all, we've been waiting months for this trip. As we paddled though Tingles Narrows, we spotted two kayakers paddling towards our group. After exchanging a few pleasantries, they disappeared behind a small island. They would be the only paddlers were would see on the first day of our journey. After about 2 hours paddling, we pulled into a sandy cove to eat lunch and take a break. Out came the charts and after some joking comments and picture taking, we were certain that we were no more than 1 hour from the Pine Tree Campsite. The campsites are identifiable from the water by canoe trail signs. The signs are located on unpainted 4x4 posts about 6 feet tall and difficult to pick up unless you are quite close. Having seen the trail sign for Tingles Island, we continued paddling south looking for Pine Tree. We pretty much stayed about 1/4 mile from the shore so we could see the sign for Pine Tree. We felt like Columbus when we saw the sign and then followed a string of small red crab-trap buoys into a channel that was protected from the wind and lead us to our base camp for the next three days - Pine Tree. We turned right, into what looked like old abandoned bulkheads on both sides and a sandy strip at the end. After paddling 5 miles in just under 3 hours we arrived, eager to set up camp and relax. The campsite was in a loblolly pine forest on high ground in a mixture of sand, pine needles and evidence that "wild" ponies were near. The camping area had about four or five individual sites, lantern hooks, one chemical toilet, picnic tables, fire grills (with lots of dead wood around). Fires are restricted to the grills because of fire hazard. According to the Park Rangers, back at the Headquarters, Jim's Gut campsite isn't available now, having been recently destroyed by fire. After a short rest and checking out of the entire campsite, we selected an open area about 100 feet from the water and fairly protected from the wind. In about 45 minutes, we unloaded our kayaks and our base camp was established; ready for three more days of exploration, paddling and enjoying the solitude of the area. Eager to start exploring, the group decided to follow a well established trail and hike to the ocean. As we walked along, there were "pony patties" as evidence that the ponies also used this trail. We learned quickly to watch where we stepped. After about a 3/4 mile walk (heading easterly) through marshland and scrub pines we could see very large sand dunes. As we continued to a T-intersection in the trail, the group headed south and the trailed lead us right through the dunes and the Atlantic was now in sight. It was quite a view to observe miles and miles of ocean and not a single person, not a single building, nothing, for as far as we could see. If you're looking for remoteness, this is the place (at least in April). The return trip left everyone ready for a dinner. With a campfire started and camp stoves ignited, the group began to cook meals that ranged from clam chowder to canned stew to red beans and rice. Once again, we knew that no one was going to bed hungry. As the bright red sun slowly lowered in the west, we recalled the old saying "Red sky by night, sailor's delight". With the sky now dark, we sat around the campfire and watched the stars in a crystal clear night sky and as all campers do, traded stories. At about 10 p.m., everyone was tired and ready for a good night's sleep.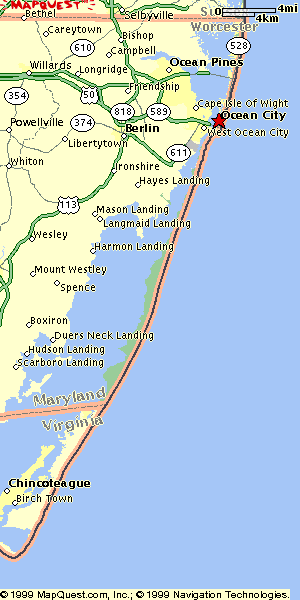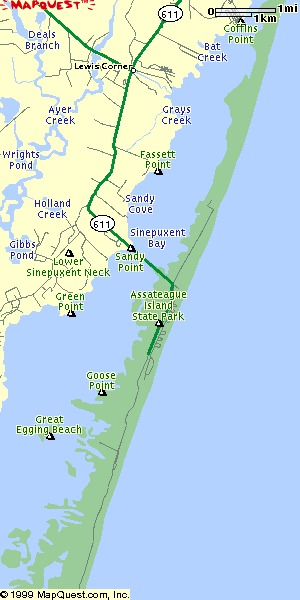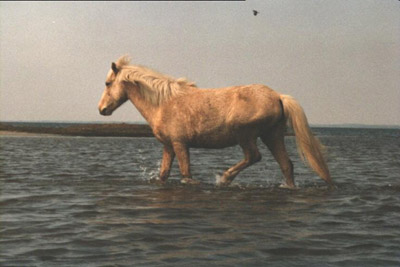 For customized maps, visit MapQuest. Please note: the above maps are not intended for navigational purposes.