The Paddle Trip:
Trip Summary: A lake & river trip in remote wilderness area "surrounded by high spired peaks and alpine valleys." The seven deep temperate lakes are interconnected by rivers of class 1-2.
Distance: Varies according to route. The lakes are each 15 - 45 miles in length.
Paddling time: This trip can take anywhere from six days to 14 days, depending on the amount of time one has. The total paddle takes 13 days at a leisurely pace. The most common trip is 6 days and takes place only in the upper two lakes.
The Launch: The launch is located on Lake Kulik, a very beautiful, magnificent lake. The launch is located on the eastern end of the lake with a spectacular view of the surrounding Kilbuk Mountains
The Route: The route is up to you on the lakes, but you must pass from lake to lake through each lakes outlet/inlet. All are easily found.
Watch Out For: The Division of Parks advises that there are bear in this area, that wind and whitecap conditions can come up quickly on these lakes, and that hypothermia can be a factor as lake temperatures range between 40 and 60 degrees F. during the summer months..
Tips: Recommended in June/July/August. Unless you are a skilled paddler, go with an outfitter
Natural Features: The Kilbuk Mountains, bear, moose, caribou, loons, wolverines. Thousands and thousands of bright red spawning sockeye salmon to paddle over.

Stretch Your Legs: Stop at all the little beaches, and small streams for some wonderful fishing. The ice caves on Kulik, the Silver & Golden Horns of Lake Beverley
One Paddler's Story: Trip contributed by Patrick Harper, owner/operator of Watermark Adventures, Inc., a small sea kayaking guide company that operates in the Wood-Tikchik State Park.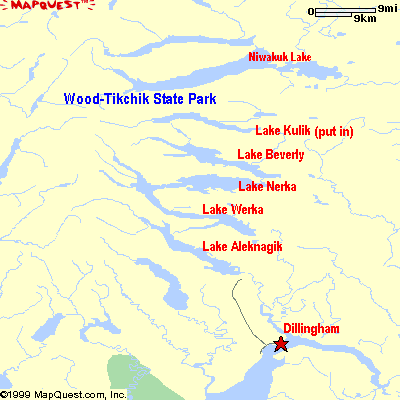 Click here for a more detailed map provided by the Alaska Division of Parks & Rec. (Map of Wood-Tikchik State Park)

Information on Wood-Tikchik State Park:




For customized maps, visit MapQuest. Please note: the above maps are not intended for navigation.