Lake Champlain End to End Trip Lake Champlain, Vermont and New York

The Road Trip: Lake Champlain is accessible from all sides but if you are coming from around NYC the Northway (Interstate 87) is a great way to get to the south end of the lake. From Boston: Use Interstate 89, from Maine north of Portland use a good map and enjoy the sights (although state Route 2 will do). Prevailing winds in summer are from the south so paddling south end to north end is typically a lot easier.

The Launch: I started at Crown Point Bridge which is where the wide lake begins. Officially, the southern terminus of Lake Champlain is Whitehall, NY, but the thirty or forty miles north from there the lake is shallow, narrow and full of Eurasian Milfoil making it less appealing, also: there are no Lake Champlain Paddler's Trail sites south of the Crown Point Bridge. You can launch from either the New York side or the Vermont side. The Vermont side has a boat access underneath the bridge with good protection and a parking lot.

Paddling time & Distance: 64 nautical miles end- to-end, 5 days: 11.5, 20, 8.5, 7.5, 16.5. (It took me five days to paddle end-to-end, but with cooperative weather and some willpower it could be done in three or four days). My time on the water really varied due to distance and weather. The 20 mile day took just over 7 hours including breaks. The 7.5 mile day took just 2.5 hours with a good tail wind.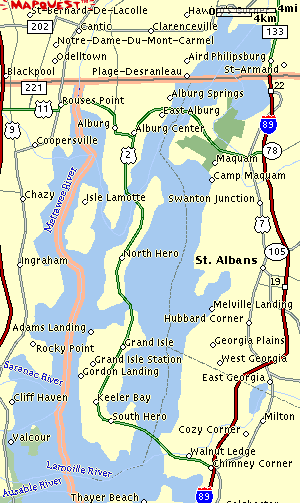 Route: Compass bearings are sometimes helpful, but what you really need is a Lake Champlain Chart Atlas which is available at West Marine, Borders, and Barnes and Noble. I was never out of sight of land, but I did paddle on a bearing frequently to keep a straight course etc. A chart and a plotter of some sort is essential, especially if you are unfamiliar with the Lake Champlain landmarks.
Sunday 6-6: Chimney Point to Barn Rock 11.5 miles -Jamie Mittendorf & Tim Coleman paddle first day -lunch at Arnold Bay, met the Decade Ride
Monday 6-7: Barn Rock to Winooski River Mouth 20 miles -rest stop at Four Brothers Tuesday
Tuesday 6-8 Day off:skills clinic in Burlington Harbor.
Wednesday 6-9: Winooski River Mouth to Valcour Island 8.5 miles -lunch at Sunset Island, explored Carleton's Prize
Thursday 6-10: Valcour Island to White's Beach Loop 12.5 miles -met Jason at White's Beach, lunch at Providence Island Friday 6-11: Valcour Island to Paddler's Trail Point 7.5 miles -stopped at Gordon's Landing, black cherry yogurt mmmm! -Jeff Meyers joins me at P.T.P (Paddler's Trail Point is a campsite North of Point au Roche on the north side of a small inlet just south of Mooney Bay)
Saturday 6-12: P.T.P to Fort Montgomery, Rouses Point 16.5 miles -Jeff paddles with me the last day -met Lisa, Todd, Jay at Isle LaMotte causeway, lunch at Point au Fer, finished at Fort Montgomery ruins.
Totals: 77 nautical miles in 6 days \ 64 nautical miles end-to-end, 88/73 statute miles

Paddling Tips Prevailing winds are southerly and the shorelines can often be used to your advantage (or disadvantage) in hiding from the wind. Places to camp are plentiful but they are not obvious. Information on the Lake Champlain Paddler's Trail is available at Paddleways.com The lake temperature is above sixty by June and often into seventy by July Boat traffic increases with water temperature, weekends are much busier than weekdays. There are many places to escape boat traffic on the lake due to shallow water, use them to your advantage

Watch out for: Lake Champlain has zebra mussels, which means you must wear some sort of footwear or you risk getting badly cut.. Lake Champlain is very cold in the early season (May 40 50 degrees). Please wear thermal protection. Lake Champlain has no tides or currents but it is almost always windy and waves frequently reach three to four feet on the broad lake, be prepared. Lake Champlain is relatively clean, but I filter or boil it before drinking. Giardia is everywhere. The shores of Lake Champlain and it's many islands often have poison ivy, be aware.

Natural Features: (The Adirondacks on the west shore The Green Mountains visible over the east shore The NYDEC New York Department of Environmental Conservation has a huge tract of land on the west shore and it is an amazing opportunity to camp, fish and hike. Fossilized coral reefs, Isle LaMotte is the oldest coral reef in the world, gastropods galore, come see. Blue Heron, Peregrine Falcon, Osprey, ducks, geese, gulls.

Other Landmarks: Lake Champlain is the most historic body of water in North America: Revolutionary War, War of 1812 and much more. There are hundreds of wrecks on the bottom for scuba divers to see. Some are now Underwater Preserves with buoys and signs. The Lake Champlain Maritime Museum: a great museum that is right on the water accessible by boat. Fort Montgomery: aka Fort Blunder, accidentally built in Canada by the United States.

Stretch Your Legs: Lake Champlain Maritime Museum (see above) Burlington Various State Parks and islands Fort Montgomery (see above)

One Paddler's Story:My name is Jonathan Long and I am a guide for PaddleWays, a sea kayak touring company based in Burlington, Vt. I paddle a Nigel Dennis Romany Explorer (17.5 feet X 22 inches). I paddled The Lake end to end in early June of 1999. The lake temperature is typically above 55 degrees between June 01 and October 01, it freezes (when it freezes) in late January or February and is typically unfrozen by March 31. Any leg of this trip could be paddled as a day trip. Lake access is easy from Vermont or New York and there are a myriad of choices, it is a big lake. I would like to say that Lake Champlain is big enough to be a challenge for most paddlers in terms of distance and often: conditions, with wind and waves. However, the lake does not have a tide nor does it have any noticeable current so it is not as serious an undertaking as an ocean trip. Lake Champlain is the sixth largest body of freshwater in the United States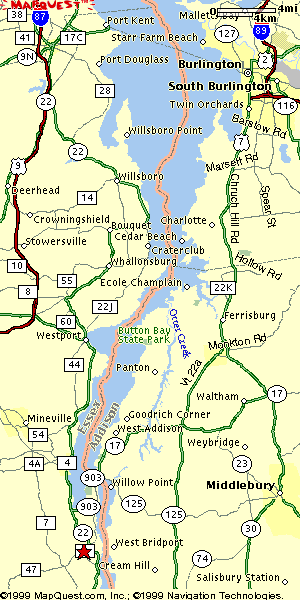 For customized maps, visit MapQuest. Please note: the above maps are not intended for navigational purposes.