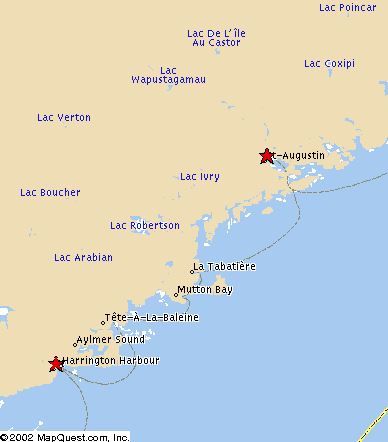 Harrington Harbour to St.Augustine, on Quebec's Lower North Shore, Sept-Iles, Quebec Province

The Road Trip: Drive to Natashquan, Quebec, way to the end of Rte 138 along the North Shore of the Gulf of St.Lawrence. Take a 15 hour trip on the Nordik Relay, a supply ship that calls at 7 ports between Natashquan and Blanc Sablon (Labrador's border)




For customized maps, visit MapQuest.
Please note: the above maps are not
intended for navigation.


Trip Summary: Many itineraries possible : sheltered or exposed, making this a very accessible trip. Remote area, solitude, wilderness camping.
Paddling time: more than 3 days
The Route: Paddle from Harrington Harbour, one of Quebec's most picturesque village, to St.Augustine where we took the Nordik for the trip back to Natashquan
Watch out for: Remoteness and cold water are the two major dangers. Check the tide tables as currents between islands can be strong. Lots of shelter mean this area is accessible in all but the most severe weather. Be ready for fog and have supplies for a few extra days.
Tips: July and August are the best time to do this trip. However, when the weather is warm and the wind drops, blacks flies and mosquitoes can be a nuisance. Fly hoods and repellent are essential for those days.
Natural Features: Marine mammals, birds. Icebergs.
Stretch your legs: Anywhere the Nordik stops : Whale Head, La Tabatiere. Also Mutton Bay (road link to La Tabatiere). Temporary shelters to wait out a storm or strong winds can be found easily all along the shore.
One Paddler's Story: Check our iceberg pictures! The trip report is online at http://www3.sympatico.ca/jmf/Cote_Nord/index2.htm Trip submitted by J.M. Falquet