The Paddle Trip:
Trip Summary: Rockport was recently named One of the nation's top 5 paddling towns by Canoe & Kayak Magazine. This trip includes panoramic views of the Camden Hills, rocky shoreline and islands, and picturesque harbors complete with tall-masted wooden schooners.
Distance: 8.4 nautical miles (round trip)
Paddling time: 3 - 4 hours. More if you plan to have an extended lunch or dinner break in Camden Harbor.
The Launch: You can either walk your sea kayaks down the ramps and launch from the docks directly in front of the parking area, or you can launch from the ramp to the left of the parking.
The Route: Follow the wooded east shore of the harbor out to Beauchamp Point and then swing east toward Deadman Point. From Deadman Point, head north along the shoreline, past Ogier and Dillingham Points (cutting inside Curtis Island at the entrance to Camden Harbor), and then into Camden Harbor itself. As you enter the harbor, stay along the northeastern shore and then angle west to the gravel beach and lawn below the public library.

Watch Out For: Deadman Point isn't as bad as it sounds, but the water can be rougher here than inside either harbor. The passage between Beauchamp Point can be tricky at absolute low tide (but it is passable). Both harbors are very busy -- keep a keen eye out for other boats.
Tips: This trip often works best in mid-to-late afternoon, to take advantage of prevailing (from the south) winds on the way north and then diminished early evening winds on the return. The route is suggested from Rockport because Rockport Harbor has more accessible launch facilities than Camden.
Natural Features: Lots of ducks and cormorants; rocky shoreline along most of the trip; views of the Camden Hills; Indian and Curtis Islands.
Other Landmarks: the bright whitish yellow lime piles of the Rockport Harbor; the lighthouse on Indian Island; the impressive mansions which are interspersed along the shoreline; the tall wooden schooners of both Camden and Rockport Harbors.
Stretch Your Legs: The north side of Indian Island is open to the public and can be accessed from a gravelly beach there. The lawn below the public library in Camden Harbor is a great place for an ice cream cone or for lunch.
One Paddler's Story: Ray Wirth paddled here the day after sea kayaking out of famed Stonington -- and he was still impressed.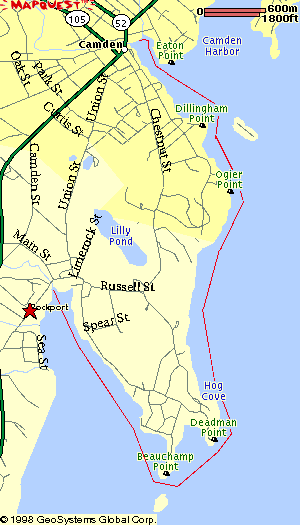 The above maps are not intended as a replacement for nautical charts. For
customized maps, visit MapQuest.