State Cross Long Island Sound. Long Island Sound. New York/Connecticut

The Road Trip: My dad, my uncle, and I left Amagansett, NY at 5:30 am on Saturday July 17th on the far eastern tip if Long Island to Mt. Sinai, NY which is located in the middle of Long Island on the north shore. Mt. Sinai is approximately 3 miles east of Port Jefferson.

The Launch: We met my fiance's cousin, John, in Mt. Sinai at his apartment which is located directly on the Long Island Sound. The launch site was a sandy beach outside of John's apartment. We could not have asked for a better day as the Sound was very glassy with negligible winds although very foggy with approximately less than 3/4 of a mile visibility. We took off at exactly 7:30 am.

Paddling time & distance: The trip was 16 nautical miles from pt. to pt. The trip took us 5 hours and 30 minutes.

Route: The four of us paddled in 3 boats my dad and uncle in a double) and took a NNW compass heading. Our route was similar to the Port Jefferson/Bridgeport passenger ferry although we were approximately 2 miles east of that route. The route called for us to stop over at the little known Middle Ground Lighthouse which sits, as it's name suggests, in the middle of the Long Island Sound. Once at Middle Ground we were to head NNW to our destination which is a beach community within Stratford, CT known as Lordship. Lordship, CT is approximately 4 miles NE of Bridgeport.

Paddling Tips: The weather encompassing the Long Island Sound is unpredictable. In a crossing of open water such as this the choosing of the right day is paramount. Low tide was beneficial to us in our dismounting of the boats at Middle Ground Lighthouse. Had it been high tide this much needed rest might have been impossible. Obviously, the summer months would be safer due to water temp. The fog was with us all day so our compass heading and familiarity with the area was helpful. I would carry life jackets for a trip like this as well as a bilge pump, compass and plenty of liquids. Other than that, I would get to the other side as quickly as possible.

Watch out for: Boating in the L.I. Sound is popular but with three kayaks we felt as though we were visible to oncoming traffic and that was our biggest concern given the fog. The currents can be strong especially near the Lighthouse and along the Connecticut shore. The winds can kick up as they did in the second half of the trip and in the afternoon the winds usually come out of the east.

Other Landmarks: I have a nautical map of the sound which includes channel markers, and this did come in handy during the second half of the trip just to verify our position. Had it been a clear day this wouldn't have been an issue due to our knowledge of landmarks.

Stretch Your Legs: The Middle Ground Lighthouse was a welcome rest stop especially for my dad and my uncle. If you are ever on the Bridgeport/Port Jefferson Ferry you can see the lighthouse off to the east on a clear day. However, it is much bigger in "person". We were able to dismount from the kayaks and pull them up on a few rocks and climb up to the main deck of the lighthouse for a bite to eat. This lighthouse is in working condition but is no longer manned and was erected at the end of the 19th century.

One Paddler's Story: My name is Tom and I am 28 years old. I paddle a Perception Eclipse and am very happy with it. My dad has a two person Old Town which he and my uncle paddled. This crossing of the sound was something my dad and I talked about ever since we bought our kayaks at the beginning of the year. We just knew we had to pick the right day. This crossing was a great accomplishment and even more so for my dad who is 60 years old. We made this trip in July of this year (1999) but we would have canceled it had the weather been bad that day. We had a beautiful paddle for the first half in glassy conditions which remained that way most of the way into the Lighthouse. The wind did kick up out of the east for the last 4 or 5 miles and the seas kicked up to 3 feet. The wind did have an impact on us in keeping to our compass heading. Mostly, a lovely crossing. There were some sore backs and shoulders that evening but nothing a few beers and endless stories couldn't conquer. On a side note, I am looking to make a trip from the tip of Montauk to Block Island and would like to know if anyone is interested.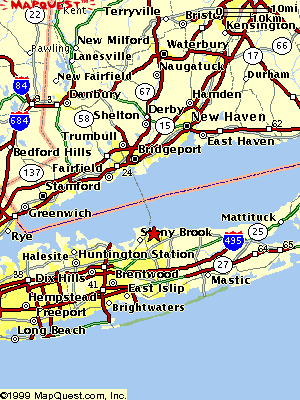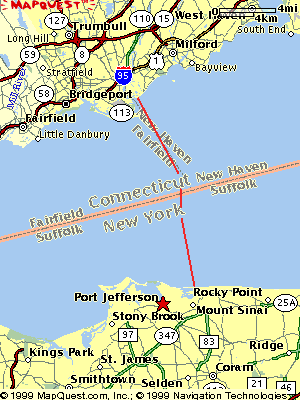 For customized maps, visit MapQuest. Please note: the above maps are not intended for navigation.