Northport / Islesboro Region, Western & Central Penobscot Bay, Midcoast, Maine

The Road Trip: From the South: Driving north on Route 1, pass through downtown Lincolnville and continue north for 5.2 miles. Turn right onto Cove Road. Follow Cove Road to the "T" then take a left, and then your first right to Saturday Cove.
From the North: Driving south on Route 1, pass Belfast. Continue down Route 1 past Dos Amigos Restaurant (on the left). Continue another 3.7 miles and look for Cove Road on your left. Follow Cove Road to the "T" then take a left, and then your first right to Saturday Cove.

Trip Summary: Incorporates a short portage and access to the Eastern Shore of Islesboro and the islands beyond it. Can be done as a lengthy day sea kayak trip or as an overnighter with a stay on Warren Island.

The Launch: Saturday Cove is best at mid to high tide. If launching at low tide, drive past the boathouse on the right and continue another 40 yards along the top of the rocky beach.

Paddling time & Distance: 5 hours, not including rest stops-- 15 nautical miles.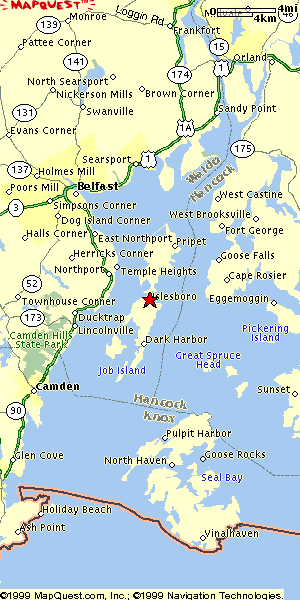 Route: From Saturday Cove head to the southern tip of Seal Island, a bearing of 127° and distance of 1.4 nautical miles. Continue on the same bearing , which will lead you into a a cove lined by tall sea grass. Paddle as far into the cove as possible. Then take out on the right bank and portage the 100 meters or so to the tar road which bisects the island. The high granite sea wall on the opposite side of the road would make for a difficult launch. Better to portage another 100 meters north (turn left up the roadway) and then put in in on the gravelly beach there. Paddle out of Islesboro Harbor, swing south around Hewes Point. From here it is about 5 nautical miles south to Pendleton Point. Along the way you will pass many coves, beaches, and estates. From Pendleton Point, turn north to skirt the eastern shore of Job Island and later 700 Acre Island. If the tide is high, you can pass between 700 Acre, Warren, and Spruce Islands (see map). At low tide, these require at least a short portage. Continue along the eastern shore of Spruce Island. Then, if not camping overnight on Warren Island, continue northwest past the ferry terminal and lighthouse at Grindell Point. From here you could skirt the Islesboro shore for several miles to the north before making your crossing, or you can do as I did, which is to ride the south wind on a nearly direct course for Saturday Cove, which is 3.6 miles on a bearing of 351°.
Paddling Tips Prevailing winds in this part of Penobscot Bay are from the south during the summer months. Best to do the first two major legs of the journey (to Pendleton Point) before the wind comes up. Bring a sail for the trip home!
Watch out for: The crossing from Saturday Cove to Islesboro usually gets quite choppy by mid-day. Watch for ships heading north to Searsport or the Penobscot River (there are shipping channels on both sides of Islesboro). Expect conditions to be rougher as you approach Pendleton Point.

Natural Features:
Seals off Seal and Flat Islands, dolphins often follow the Islesboro ferry, Osprey nest along the shore of Islesboro. Weathered cliffs interspersed with gravelly beaches and coves on the eastern shore of Islesboro.

Other Landmarks: A granite block sea-wall marks the east shore, just east of the Main Road on Islesboro opposite the take out for the portage. Dark Harbor has a salt-water pond whose rushing outlet can heard at low and mid-tides. Along 700 Acre Island you will paddle past an old stone farmhouse, and a bit further north, a town pier. Grindell Point is marked by a white lighthouse. And finally, from Grindell Point, on a clear day, the entrance to Saturday Cove is visible as a point south of the "Bluffs" of Temple Heights which form the most prominent point on the northward stretching coastline.

Stretch Your Legs: The Islesboro portage will make you happier to be back in your sea kayak again (it never fails). Pendleton Point is a town park and picnic area. Warren Island is a state park and is available for day use and camping. It is a state-managed salt water park developed exclusively for boaters. It offers campsites, toilet facilities, and excellent fresh water. There is a fee for overnight camping.

One Paddler's Story:Ray Wirth paddled this route as a sea kayak day trip in July of 1999.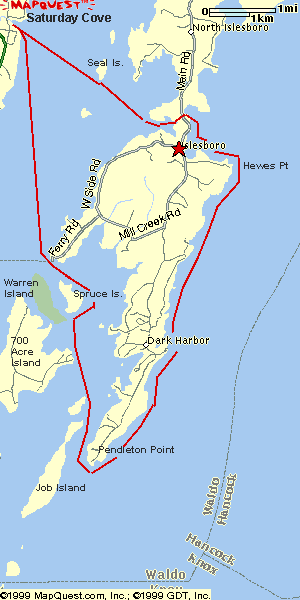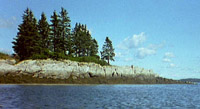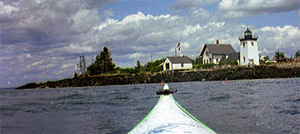 For customized maps, visit MapQuest. Please note: the above maps are not intended for navigational purposes.


Water Walker Sea Kayaks, Belfast, Maine