A multi-day lake paddling trip from West Cove town launch on Moosehead Lake in Greenville, Maine.

Highlights: Lake and mountain scenery combined with big water paddling. Although Moosehead lake is fresh water, it is BIG, the largest lake in the State of Maine, between 35 and 40 miles long and between 2 and 10 miles wide, depending on where you are in the lake.

Route: I did a solo circumnavigation of the lake, starting at the west cove launch site in Greenville, paddling up the east side of the lake to Lilly Bay, camping at the point between Lilly and Spencer Bays, over past Kineo the next day and then up to the North end of the lake at Seboomic Point. About two hours after I arrived, a young man and woman sailed up in a sailing dinghy full of camping gear and food. They ended up sharing the campsite and their food with me. The steak that they fed me was particularly tasty. After spending two nights and a day at the point, due to nasy weather conditions, I paddled down the west side of the lake. I left Seboomic Point at 8 am and arrived at my evening campground at Masterman's Island in Lamb's Cove(about 3 miles south of Rockwood on the west side of the lake) about 2 pm, with about an hour out for lunch at Hardscrabble Point. Just as I was watching the sunset around 7:30 pm, 6 canoes full of Outward Bound students and their two instructors showed up at the campsite. The next nearest camp site was three miles down the lake at Deer Island, it was getting dark and the kids looked exhausted. I invited them to share the site which they did. The next morning I got an early start, hitting the water just after 7 am and reaching West Cove in Greenville before 11 am, with a couple of rest stops in between. My route was about 70 miles and essentially was a circumnavigation of the lake.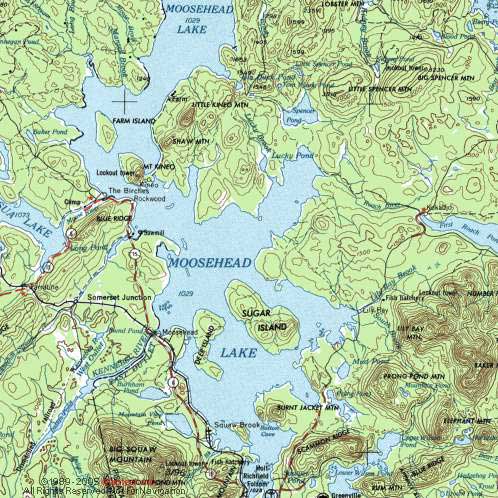 Saftey Tips: The weather on Moosehead bears watching. Although an inland lake, as indicated above, it is huge. When I came around Hardscabble Point at the end of Kineo, headed north, I could not see the shore at the north end of the lake due to the curvature of the earth. When the wind picks up, the size of the lake means there is a huge fetch with waves well over 3 feet. In fact there have been 9 foot waves reported on some areas of the lake when the winds reach over 40 mph. These high wind conditions can occur suddenly in the summertime due to the rather common thunderstroms in the area. Most places on the southern part of the Lake have sheltered waters and landing spots close by. However on the northern half, there is very little shelter. The lake is mostly open with few public campsites to land at. The only places are Little Duck Cove, Northeast Carry, Seboomic Point, and Northwest Carry (Seboomic). There is a NOAA weather radio station in Greenville which broadcasts on VHF. Any body going out for more than a day should carry a weather radio. Before venturing out on Mooshead, I would suggest buying a chart of the lake. DeLormes sells a tear resitant and waterproof chart which I highly reccomend.

Paddling Tips: If you are planning on doing a multi-day trip in the summer, weekdays are best. There are many free publicly maintained campsites on the lake, with outhouses and picnic tables. However on a warm, sunny weekend it seems that every power boater in the northern part of the state takes their entire family to spend Saturday and Sunday camping on the lake. Many are willing to share their campsites (I was) but it is on a first come-first served basis and some people may not be as genorous. To avoid crowds, go out on a Monay--Friday trip.

Stretch Your Legs: Kineo Township is a great rest stop---there is a store at the golf course where you can buy candy, soda, hotdogs, ice cream etc. The proprietor will let you fill your water bottles there. Also the climb of Mount Kineo only takes about an hour and is well worth the view---it allows you to actually see the north end of the lake, something that is impossible at lake level.

Comments: I paddled this trip July 29--August 2, 2004 in a Wilderness Systems Tempest 170. Except for Saturday, July 31, I had really great weather, once the showers passed through the following morning. If you would like to read what this trip was like 150 years ago, Henry David Thoreau writes about it in his book "In the Maine Woods"
--Contributed by Jon Sprague