Belfast Bay of Penobscot Bay, Maine
The Road Trip:
From the South: Exit off Route 1 to downtown Belfast, proceed to the bottom of Main Street, and look for the boat launch area just to the right of the town pier. Parking is available nearby.
From the North: Exit off Route 1 to downtown Belfast, then follow the same directions as above.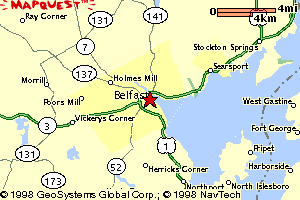 The Paddle Trip:
Trip Summary: A scenic cruise along a varied shoreline, most of it lined by cottages, summer homes and year-round homes. Stop at Moose Point State Park for lunch!
Distance: 6 nautical miles (round trip)
Paddling time: 2 hours.
The Route: From Belfast town landing, cross to the east shore the Passagassawakeag River and then continue east along the shoreline to Moose Point.
Tips:The wind will usually be against you on your return trip (out of the west). When the wind blows, the seas tend to be choppy here, without a lot of wave height.
Natural Features: Patterson Point (at the mouth of the Passy River), rocky Moose Point, coves and beaches in between, views of the Camden Hills to the south.
Other Landmarks:The red tugboats of Belfast Harbor are just to your left as you put in. The historic (and crumbling) "old bridge" over the Passy River. In summer, Belfast harbor is increasingly filled with a variety of sailboats and other recreational water craft. As you round Patterson Point, the "Monument" (a large stone navigational marker) is about half a mile away to the south. As you round Moose Point, you will see the white fuel tanks of Mack Point several miles to the north.
Stretch Your Legs: On Moose Point itself, or one-third mile further east down the shoreline below the park parking lot. Moose Point is a tiny but pleasant state park which includes walking loops and picnic areas.
One Paddler's Story: Trip contributed by Ray Wirth.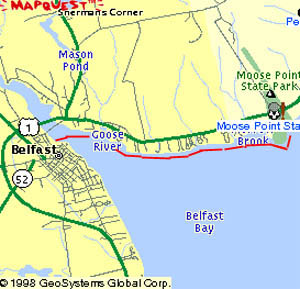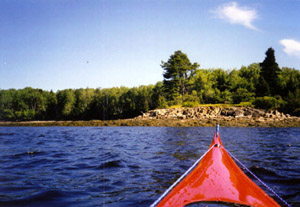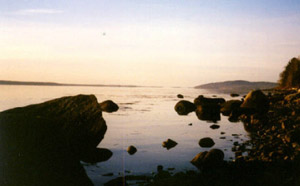 The above maps are not intended as a replacement for nautical charts. For
customized maps, visit MapQuest.