Western Penobscot Bay, off Owls Head, Maine
The Road Trip:
Take Route 1 to Rockland, and then turn onto Route 73 south. Continue a few miles and then turn left toward Owls Head (sign). Almost immediately turn right, past the airport (another sign). Continue straight through several intersections until your reach Ash Point.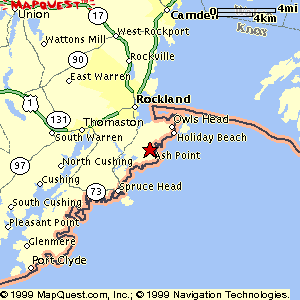 The Paddle Trip:
Trip Summary: An open ocean trip combined with the beauty (and security) of a cluster of beautiful wild islands and ledges. Many, many options. You'll never do it the same way twice.
Distance: 8+ nautical miles (round trip).
Paddling time: 3 - 4 hours, or more depending on your route.
The Launch: Carry your boat down the steep dirt driveway that leads out onto the beach. The steep pebbly beach could make for an exciting launch when the surf is up.
The Route: The tiny islands and ledges to your right and to your left are going to call out to you, so prescribing a set course is an exercise in futility. Instead, I'll only suggest a general route. From Ash Point, skirt around the eastern shore of Ash Island, and then turn south for the 1 nautical mile crossing to Otter Island. From Otter Island, begin a wide clockwise circuit through this sea of islands and ledges, going as far as Graffam Island if you have the time. Then swing north along the western shore of Dix Island and Ash Island before returning to Ash Point.
Watch Out For: The current in the Muscle Ridge Channel between Ash Island and Otter Island can be fairly strong. Seas are likely to be choppy here. (Water depth to 80 feet or more).
Tips: An early morning start is most likely to get you a parking spot and calm seas for your trip out. If you circulate through the islands in a clockwise direction, you may pick up a sea breeze to speed your return trip. If there is a stiff wind from the south or west, you may want to avoid the outer exposed shores of Andrews, Hewitt, Pleasant, and Graffam Islands. Bring a chart and binoculars if you have them. Ash Point can be difficult to spot on your return trip, so look for landmarks on your way out and be prepared to use back bearings.

Natural Features: Colonies of harbor seals lounge on the many islands and ledges. (Please avoid disturbing them, especially in the spring when they are raising their pups -- it "costs" seals a lot in terms of energy every time they go back into that cold Maine water, and once disturbed, they may stay in for a long time). Huge populations of ducks and other shorebirds can be seen on these islands. An archipelago of beautiful granite islands, some exposed to open ocean, others protected, with tiny pocket beaches.
Other Landmarks: Two Bush Light, with its 5 second interval, is to the south during much of the trip. On a clear day, the bridges to Spruce Head Island and Birch Island can to the west -- from Dix Island and Hewitt Island, respectively.
Stretch Your Legs: Birch Island, situated between Dix and High, is open to Maine Island Trail Association members for day use. Please contact MITA for more information.
One Paddler's Story: Ray Wirth paddled this trip in May of '99.




For customized maps, visit MapQuest. Please note: the above maps are not intended for navigational purposes.


Performance fiberglass sea kayaks
at surprisingly affordable prices.