The Paddle Trip:
Trip Summary: Rockport was recently named One of the nation's top 5 paddling towns by Canoe & Kayak Magazine and this short trip gets even better once you leave the harbor. Mountain views! Beautiful islands! Rocky shoreline! Who could ask for more?
Distance: 4 nautical miles (round trip)
Paddling time: 1.5 - 2 hours. But leave time to go ashore on Indian Island.
The Launch: You can either walk your boats down the ramps and launch from the docks directly in front of the parking area, or you can launch from the ramp to the left of the parking.
The Route: Follow the wooded east shore of the harbor out to Beauchamp Point and then continue east, along the rocky shoreline here to Deadman Point. From here, turn and retrace your route to the northern side of Indian Island. Then retrace your route back through the harbor.
Watch Out For: The north-south orientation of Rockport Harbor shelters it from most winds and storms. Conditions can be quite different once you leave the harbor.
Tips:The parking area can fill up during the summer months so show up early, especially on a weekend.
Natural Features: Lots of ducks; the cliffs and rocks of Indian Island, Beauchamp Point, and Deadman Point. Remarkably clear water as you round Beauchamp Point.
Other Landmarks: The lighthouse on Indian Island; the estates which are interspersed along the shoreline; the bright whitish yellow lime piles of the harbor.
Stretch Your Legs: The north side of Indian Island is open to the public and can be accessed from a gravelly beach there. It makes a great lunch spot! The southern end of the island, including the lighthouse is private.
One Paddler's Story: This was Ray Wirth's first trip in a sea kayak, and it remains a favorite. He still gets goosebumps rounding Beauchamp Point on a summer day with the Camden Hills in front of him and clear green water underneath.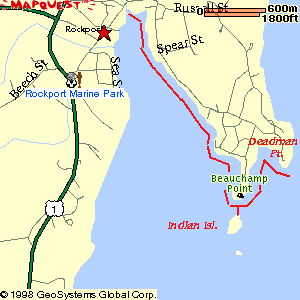 The above maps are not intended as a replacement for nautical charts. For
customized maps, visit MapQuest.


Water Walker Sea Kayaks:
High performance fiberglass boats
at surprisingly affordable prices.