The Meta River, from Puerto López to Orocué.
( Colombia, South America)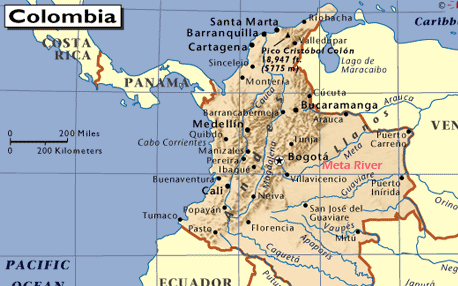 For customized maps, visit MapQuest. Please note: the above maps are not intended for navigation.

Trip highlights: Possibly, due to conditions in my country nobody has done this trip before. The highlight is to have concluded a very intense solitary adventure. It may be down the current, (2 Knots), but around 10 AM a 15 knot breeze right into your face was a constant. You cross an Indian reservoir, and they taught me how to paddle and advance in spite of the wind. The Meta is the largest river that crosses the eastern plains of Colombia in an East course and eventually meets the great Orinoco.

Time and distance The total distance is around 300 km. I did it in six and a half days. Around 50 km per day.

Route: The names may sound and weird but the places or small villages were Puerto López-Cabuyaro-Guadalupe-Carupana-Tunupe-Manacacías-La Poyata-San Miguel-El Porvenir-Orocué.

Watch Out for:Very strong wind from 9 am to 3 pm. Some parts very shallow, but gradually you learn to "read" the river better. As long as you keep yourself properly hydrated (average temperature 28 degrees Celsius) and not exceed yourself you can easily paddle 50 km per day, setting up camp around 5 PM in any of the beautiful , virgin islands, boil some coffee, light a campfire and rest.

Tips: The dry season is from January to March -- beautiful weather, but as the season advances the river becomes very shallow. I did it at the very beginning of the dry season. 60% of your daily distance is done from 6 am (as soon as you can see) to 10 am before the breeze rises. Fishermen are very friendly and they gave me hot meals around mid day.

Stretch your legs:Seven smaller rivers shed their water to the Meta on the route. At this places "toninas" or fresh water dolphins abound, dancing around your kayak surprised to see a noiseless craft. Visiting the Indian (Guahibos) reserve is a thrilling experience. They are master fishermen and sailors. They adjust makeshift sails to their canoes and they sail up - river hundreds of kilometers.

One Paddler's Story: Next year, gods willing , I plan to repeat the journey in the company of a local Indian. The village council of Orocué, surprised to see what I did, authorized me to began all the paperwork necessary to import a kayak. My craft is an Acadia Perception outfitted for expedition with a rudder (extremely helpful). She was named CURIARA, the Indian word for small canoe. Contributed by Alberto Valenzuela

Click here to read the full report on Alberto's trip.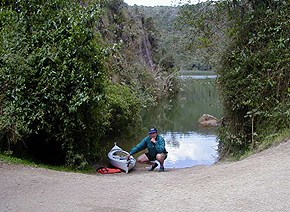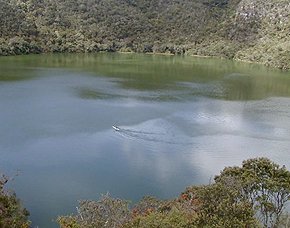 Read the full report on Alberto's trip.